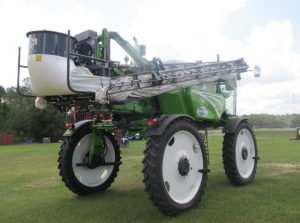 The largest working platform in the industry, 210 sq. ft.

The largest elevator has over 72 sq. ft. of storage area

Spray Tank Capacity – 900 Gal.

Diesel Engine – John Deere 4045 (170 HP) 4-cylinder – Turbo, Common Rail TIER 3, 28 mile speed

Steering System – 4-wheel steer

Suspensions – front and rear axle (air)

Cab – Air Conditioning, activated carbon filters and pneumatic driver's seat

Spray System – TRIMBLE Spray System

Booms – 88 ft. horizontal folding system, capable of covering seven 12 ft. rows. Air assisted booms allow for the efficiency of a multi-row sprayer.


The force of the air provided by these booms increase canopy coverage and the volume of fungicide spray to provide deep canopy penetration for pest control.
Self-propelled sprayer

Available with tanks of 1500, 2000 or 2500 liters

Can perform every kind of chemical treatment necessary for the cultivation of tobacco and many others

80 HP @ 2500 or 99 HP @ 2500

Rear tire: 13.6 – 24; Front tire: 10.5 – 80 R18

Length 20 ft.; Width 9 ft.; Height 10 ft.

Speeds: 0-6 MPH, 1-16 MPH (adjustable)

Rear brakes

Stainless Steel 650 gallon tank

Boom: 8 rows – 33 ft. (3 sections) 12 rows – 53 ft. (5 sections with leveling)

3 way teejet valve

Spraying control – Teejet 844-E or ARAG Bravo 180

Water Pump – Hypro-Annovi

Closed cab with air conditioning

25 Gallon clear water tank

9 gallon with bag-washer

Adjustable rear wheel track


Optional: foam marker, lift able cab
Contact us for information on availability and price, We can help you find the equipment that suits your needs.
912-284-1500
sales@bennettstractor.com